Our leadership is comprised of Muslims chaplains who provide guidance as well as promote Ziyara's mission and vision, national and international.
Board of Directors (Alphabetical Order): 
Samsiah Abdul-Majid, Chaplain – Westchester County, New York
Kamal Abu-Shamsieh, Relief Chaplain – Stanford Hospital
Sakinah Alhabshi, Chaplain Resident, Stanford Hospital
Sondos Kholaki, Chaplain – Hoag Hospital
Sharif Rosen, Chaplain – Williams College
Taqwa Surapati, Cancer Chaplain – Stanford Hospital
Samiah Abdul-Majid, BCC 

Samsiah is a board-certified chaplain in palliative care. Her clinical pastoral education was at the Westchester Medical Center, NY, and Massachusetts General Hospital, Boston. She is a former United Nations official, and has served as the secretary of the Association of Muslim Chaplains (AMC) and is a co-investigator in an AMC-Boston University Medical School pioneering study to map Muslim chaplains in the US.
Education
MA, Islamic Studies and Christian Muslim Relations, Hartford Seminary
Graduate Certificate in Islamic Chaplaincy, Hartford Seminary
Board Certification,  Association of Professional Chaplains (APC-BCCI)
Clinical Pastoral Education,  Westchester Medical Center, NY & Massachusetts General Hospital, Boston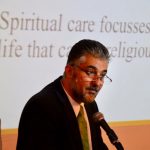 Kamal Abu-Shamsieh: (Co-Chair) 
Kamal completed chaplaincy 4 units of Clinical Pastoral Education (CPE) and residency at Stanford Hospital & Clinics and CPE of Central CA. He is the founder of Ziyara, and leads local, national, and international seminars to train spiritual care providers in various Muslim countries. For more information, email shamsieh@Ziyara.org or call (559) 244-9360.
Education
Ph.D. Candidate / Practical Theology, Graduate Theological Union, Berkeley
MA, Islamic Studies / Christian – Muslim Relations, Hartford Seminary
Graduate Certificate, Islamic Chaplaincy, Hartford Seminary
Clinical Pastoral Education, Stanford Hospital & CPE of Central California
Certificate, Essentials Palliative Care Chaplaincy, Institute for Palliative Care
Ecclesiastical Endorsement: Islamic Society of North America
Sakinah Alhabshi (Ziyara Coordinator – Malaysia)
Sakinah was born and raised in Malaysia. She spent ten years in the oil & gas industry, with experience in project management, international relations, communication, and corporate social responsibility. Since then, she has ventured into the education and health field – currently serving her community through coaching, counseling, as well as volunteering in hospices and disaster relief missions.
Education
CPE Residency, Stanford Hospital, CA, USA
Advanced Diploma in Islamic Studies, Arees University, Malaysia
Certificate in Leadership, GE Oil & Gas University, Florence, Italy
B.S. Environmental Engineering, Northwestern University, IL, USA
Chaplain Sondos Kholaki (Co-Chair)
Sondos works at Hoag Hospital as the program's first Muslim chaplain taking care of patients of all faiths but focusing on Muslim patient care. She currently serves at Hoag Irvine as a staff chaplain and as an educator on Muslim spiritual care matters. Sondos previously served as President of the Board of Directors at the Islamic Center of Irvine (ICOI).
Education
Master of Divinity Student, Islamic Chaplaincy at the Claremont School of Theology/Bayan Claremont
Regents Scholar, UCLA – Bachelor of Arts in English and Creative Writing
Clinical Pastoral Education (5 Units), Hoag Hospital
Chaplain Sharif Rosen (Secretary)
Sharif serves as the Muslim Chaplain at Williams College, a distinguished liberal arts college in the Northeastern United States, and was a Chaplain Intern at Dartmouth-Hitchcock Medical Center.  He is the Vice President for Healthcare Chaplains with the Association of Muslim Chaplains, and the former Co-President of the Association of Campus Muslim Chaplains.  He is a contributing writer and question respondent with SeekersHub, an influential online Islamic learning platform. Ch. Sharif embraced Islam in 2002 and comes from a multi-cultural, ideologically diverse background.
Education
MA Student, Islamic Studies – Hartford Seminary
Clinical Pastoral Education (3 units), Dartmouth-Hitchcock Medical Center
Formative Islamic Studies, Amman, Jordan
Taqwa Surapati (Treasurer)
Taqwa works as Cancer Care Chaplain at Stanford Hospital. For a decade, Taqwa served as a Spiritual Care volunteer at Stanford and other local hospitals in the San Jose area. Her interests include oncology chaplaincy, how people of different faiths view end-of-life situations and advance health care planning. Taqwa came to the US in 1998 from Jakarta, Indonesia where she and her family established a home in the Bay Area.
Education
Graduate Certificate in Islamic Chaplaincy – Hartford Seminary
MA Student, Islamic Studies, Graduate Theological Union
Clinical Pastoral Education (4 Units), Stanford Hospital