Our leadership is comprised of professional chaplains, physicians, and counselors who promote the mission and vision of Ziyara.
Board of Directors (Alphabetical Order): 
Samsiah Abdul-Majid, Chaplain – Westchester County, New York
Kamal Abu-Shamsieh, Graduate Theological Union – Berkeley
Sakinah Alhabshi, Chaplain Fellow, Stanford Hospital
Narjess Kardan, CPE Student Educator, Houston Methodist Hospital
Sondos Kholaki, Chaplain – Hoag Hospital
Ramy Salah, MD. – Sutter Health
Taqwa Surapati, Cancer Chaplain – Stanford Hospital
Samiah Abdul-Majid, BCC 

Samsiah is a board-certified chaplain in palliative care. She is a former United Nations official, and has served as the secretary of the Association of Muslim Chaplains (AMC), and is a co-investigator in an AMC-Boston University Medical School pioneering study to map Muslim chaplains in the US.
Education
MA, Islamic Studies and Christian Muslim Relations, Hartford Seminary
Graduate Certificate in Islamic Chaplaincy, Hartford Seminary
Board Certification,  Association of Professional Chaplains (APC-BCCI)
Clinical Pastoral Education,  Westchester Medical Center, NY & Massachusetts General Hospital, Boston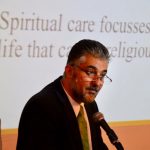 Kamal Abu-Shamsieh: (Founder) 
Kamal is the founder of Ziyara and director of the Interreligious Chaplaincy Program at the Graduate Theological Union in Berkeley, CA. He leads local, national, and international seminars to train spiritual care providers in various Muslim countries. For more information, email shamsieh@gmail.com or call (559) 244-9360.
Education
Ph.D., Practical Theology, Graduate Theological Union, Berkeley
MA, Islamic Studies / Christian – Muslim Relations, Hartford Seminary
Graduate Certificate, Islamic Chaplaincy, Hartford Seminary
Clinical Pastoral Education (CPE – 4 Units), Stanford Hospital
Certificate, Palliative Care Chaplaincy, CSU – Institute for Palliative Care
Chaplain Sakinah Alhabshi
Sakinah was born and raised in Malaysia. She spent ten years in the oil & gas industry, with experience in project management, international relations, communication, and corporate social responsibility. Since then, she has ventured into the education and health field – currently serving her community through coaching, counseling, as well as volunteering in hospices and disaster relief missions.
Education
MA student, Islamic Studies, Graduate Theological Union
CPE Residency, Stanford Hospital, CA, USA
Advanced Diploma in Islamic Studies, Arees University, Malaysia
Certificate in Leadership, GE Oil & Gas University, Florence, Italy
B.S. Environmental Engineering, Northwestern University, IL, USA
Chaplain Narjess Kardan
Narjess has been serving as a Muslim chaplain at Methodist Hospital in Houston, TX for 3 years. She provides services to the palliative care team as an interfaith chaplain and contributes to the ethics committee on issues related to Muslim patients.
Education
Bachelor of Divinity, Al-Zahra University in Qum, Iran
MA, Islamic Thought and Theology-Quran Science and Hadith, Shiraz University in Shiraz, Iran.
Clinical Pastoral Education (CPE- 5 Units)- Methodist Hospital
Adjunct Faculty, Islamic philosophy at Shiraz Azad University
Researcher & Lecturer, Sama University, Al-Qadeer University, and Imam Husain College.
Publications
Self-Development in Islam, a book in Farsi
Lexicon of holy Quran's Verbs, a book in Arabic
Quran Study, Islamic Theology Magazine between 2009 and 2012.
Chaplain Sondos Kholaki (President)

Sondos works at Hoag Hospital as the program's first Muslim chaplain taking care of patients of all faiths but focusing on Muslim patient care. She currently serves at Hoag Irvine as a staff chaplain and as an educator on Muslim spiritual care matters. Sondos previously served as President of the Board of Directors at the Islamic Center of Irvine (ICOI).
Education
Master of Divinity Student, Islamic Chaplaincy at the Claremont School of Theology/Bayan Claremont
Regents Scholar, UCLA – Bachelor of Arts in English and Creative Writing
Clinical Pastoral Education (5 Units), Hoag Hospital
Ramy Salah, MD
Ramy is an outpatient, home-based palliative care physician in San Mateo, CA. He also is the medical director of palliative care at a mid-sized hospital, where he co-chairs the hospital bioethics committee. He's led advance care planning workshops for Muslims in mosques, held talks on the Islamic perspective of end-of-life care in various settings, and presented the Islamic bioethics on withdrawal of life-sustaining treatment at the American Academy of Hospice and Palliative Medicine. His most recent project studies attitudes of Muslims, and Muslim chaplains in particular, on physician aid-in-dying.
Education
Doctor of Medicine, University of California, Los Angeles (UCLA)
Internal Medicine Residency,  University of California, Los Angeles (UCLA) Palliative Medicine Fellowship, Un. of California, San Francisco, ( UCSF)
Chaplain Taqwa Surapati (Treasurer)
Taqwa works as Cancer Care Chaplain at Stanford Hospital. For a decade, Taqwa served as a Spiritual Care volunteer at Stanford and other local hospitals in the San Jose area. Her interests include oncology chaplaincy, how people of different faiths view end-of-life situations and advance health care planning. Taqwa came to the US in 1998 from Jakarta, Indonesia where she and her family established a home in the Bay Area.
Education
Graduate Certificate in Islamic Chaplaincy – Hartford Seminary
MA Student, Islamic Studies, Graduate Theological Union
Clinical Pastoral Education (4 Units), Stanford Hospital