Ziyara, a non-profit 501(c) 3 organization, focuses on the promotion of spiritual care literacy and training and providing spiritual care to all people.
Our training seminars provide skills to care for diverse communities: religious and ethnic, especially those who are vulnerable.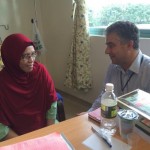 Ziyara leads global efforts to train spiritual care professionals to offer compassionate and culturally competent care, assess the needs of people, serve as their advocates, and support their families and the providers who are caring for them.